Demo Vs MS Access MDB Recovery Tool
Upgrade to License Version to Get Advance Options
| Features | Demo | License |
| --- | --- | --- |
| Add access mdb Database File | | |
| Preview Access File Database | | |
| Select Save Options (MS Access Database Or CSV File) | | |
| Windows 10 & All Below Windows Version Supported | | |
| Browse Destination Path | | |
| Select Export Options (Only Schema or Schema & Data) | | |
| Save or Export Database File | | |
| | Demoware | $69 |
| | Download | Buy Now |
MDB/ACCDB File & Its Corruption Reasons
Files that contains the extension as .mdb file extension and .accdb file extension are created by Microsoft Access Databases. MDB file is the format used by Microsoft Access 2003 and below version to store MS Access data. In Microsoft Access 2007 and later version file format used to store MS Access data is ACCDB file. Both the files contains database structure and other entries. This MDB & ACCDB recovery tool is designed so well that it can easily read and repair corrupt access database file.
MDB File Corruption Reasons
Several reasons due to which Microsoft Access database gets corrupted. Some of them are:
Abnormal or accidentally system shutting down
Trying to access MDB file while database is running
Hard drive or disk controllers failure
Application failure
Virus and Trojans attacks
Memory out of space
When the corruption happens due to any of the above reasons or any other unknown reason, user needs to repair MDB database using a credible Microsoft Access MDB recovery tool. This Access Repair software is so uniquely programmed that it can combat with any kind of error that are cause of access MDB/ACCDB database file corruption.
Access MDB Recovery Software Unbeatable Feature

Recover Access Database File
Microsoft Access MDB Recovery tool uninterruptedly repairs and recover corrupt MDB & ACCDB database files containing tables, macros, modules, queries, reports, etc.

Table Relationship
MDB recovery tool maintains the inner relationship of database tables. Organises tables and other data of MDB file as it was originally organised.

Export Selective File
Using MS Access Accdb repair tool user has option to export selected record as well as full repaired MDB access database file.

Efficiently Scan MDB & ACCDB File
MDB Access Recovery Tool deeply scans the MDB and ACCDB files and repairs database file from corruption & preview all your recovered data.

User Friendly Interface
MDB Access database recovery software is designed with user friendly graphical interface, so no technical skills needed to operate this tool
Export & Save File Format
Using Access database file recovery tool user have choices to save & export the recovered data; Directly to MDB file format or export as a CSV format.
MDB Access Recovery Tool Working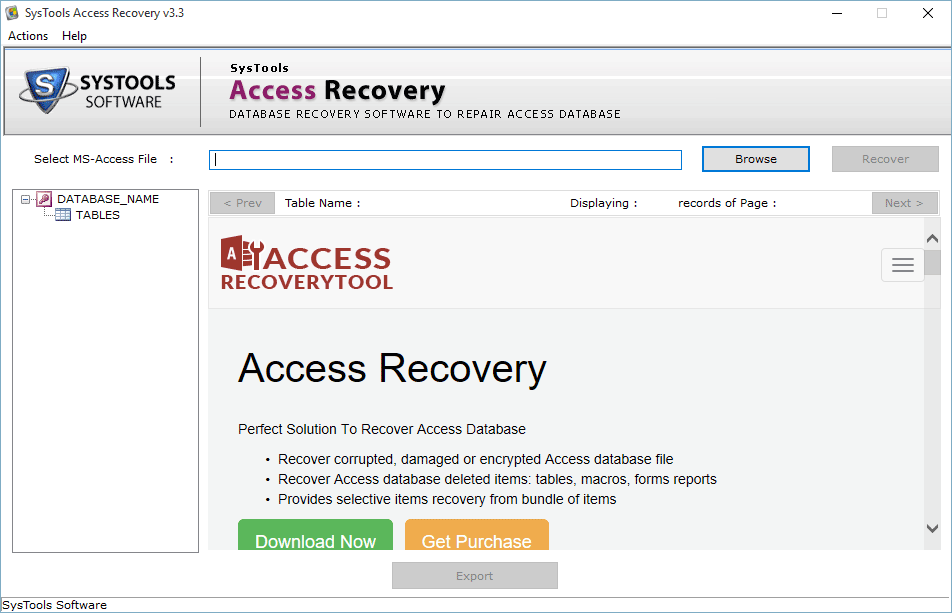 Step1: Add MDB/AACCDB File
Download & Install the Access MDB repair tool and click "Browse" button to select the mdb file.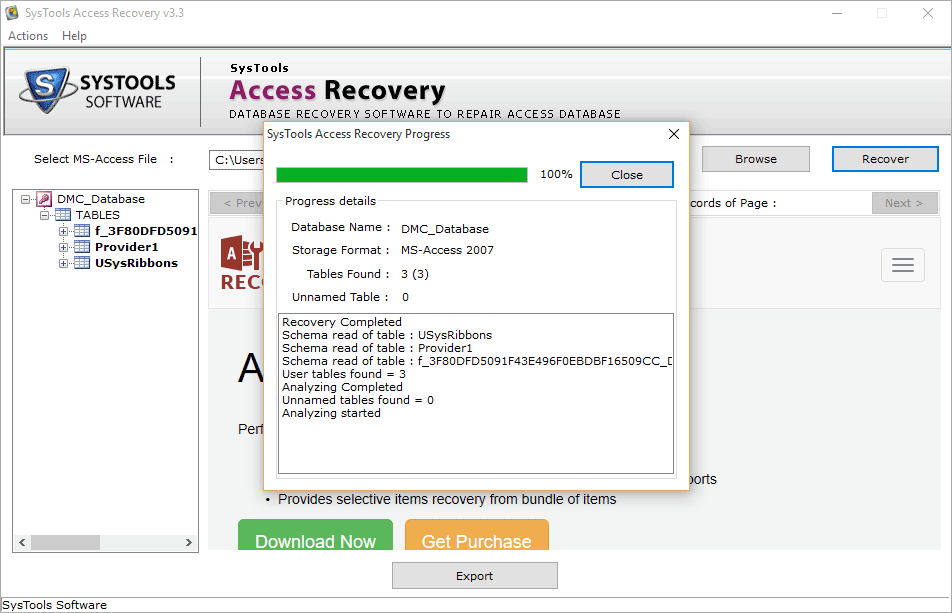 Step2: Scanning Process
After uploading the MDB file, Microsoft Access recovery tool will scan its data.
Step3: Preview MDB File Data
Now, the MS Access MDB file recovery software will preview all the data of ACCDB & MDB file
Frequently Asked Questions
Does MDB database repair tool has any file size limitation?
No, there is no file size limitation to recover database from MDB and ACCDB Access database file.
Can MDB access file recovery tool repair the ACCDB file of MS Access 2013?
Yes. The MDB repair tool supports all MS Access versions 2013, 2010, 2007, 2003, 2002 & 2000.
Do I need to have MS Access installed to launch Microsoft Access Database Recovery Software?
No, the Ms Access recovery software does not require Microsoft Access enviroment. But, to export & save the recovered data to MS Access database, Access environment needed.
Can MS Access database file recovery tool repairs corrupt Accdb & Mdb file of any state?
Yes, this tool is capable to recover Accdb & Mdb file data from any state of severe corruption.
Is it possible to recover only Schema from corrupt MDB file using this MS Access mdb recovery tool?
Yes, this Mdb file repair tool has choice to save only Schema of recovered data or Schema & data both.